Swamp Sunflower Makes a Good Landscape Plant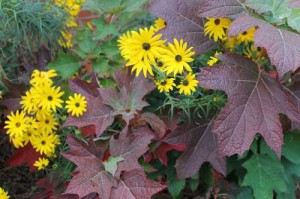 People who are looking for a perennial plant that loves clay soils that are poorly drained and remained waterlogged should try the swamp sunflower.
Helianthus angustifolius (swamp sunflower, or narrow-leaf sunflower) is a perennial that can grow to 6 ft tall with a much-branched stem and rough, sandpapery leaves 3-6 in long but only a half-inch wide. The yellow flowers, 2-3 in across, are borne profusely from Early October through November when there are few blooming plants in the landscape.
Swamp sunflower grows in moist, sunny or partly shady locations throughout much of the eastern U.S. from southern New York to Florida and west to the Ohio River valley and south to southern Texas. It grows in swamps, wet pinelands, coastal salt marshes and moist disturbed sites and is often common along roadside ditches and fence lines.
Like most sunflowers, this one does best in full sun. Plants grown in partial shade will be leggier and probably fall over without support. and won't produce as many flowers.  It prefers a moist soil but will thrive in well-drained soils if watered during dry spells.
It will grow in USDA Hardiness Zones 6 – 9.  It is an herbaceous perennial that dies to the ground after the first freeze, and returns in spring.  It can be purchased now as a container-grown plant.  For more plants, you can cut the root mass apart into divisions before planting.
It's attractive to many of our native butterflies and often grown in the wildflower garden or in mixed perennial beds. It is rather inconspicuous most of the year, lying low and unobtrusive, but still attractive with its deep green leaves and maroon stems. However, the narrow-leaved sunflower comes alive and brightens everything around it from September until November. You can cut the plant back in June so it will be bushier when it blooms later in the year.
Swamp sunflower is salt tolerant and a useful perennial for coastal gardens. And, it can tolerate waterlogged soils for extended periods.  When grown in well-drained fertile soils in a sunny location, the plant will spread rapidly in an area from its underground rhizomes (roots).
Was the information on this page helpful?
Care to tell us why? Send Explanation